Cosy soft wool clothes from mulesing-free merino wool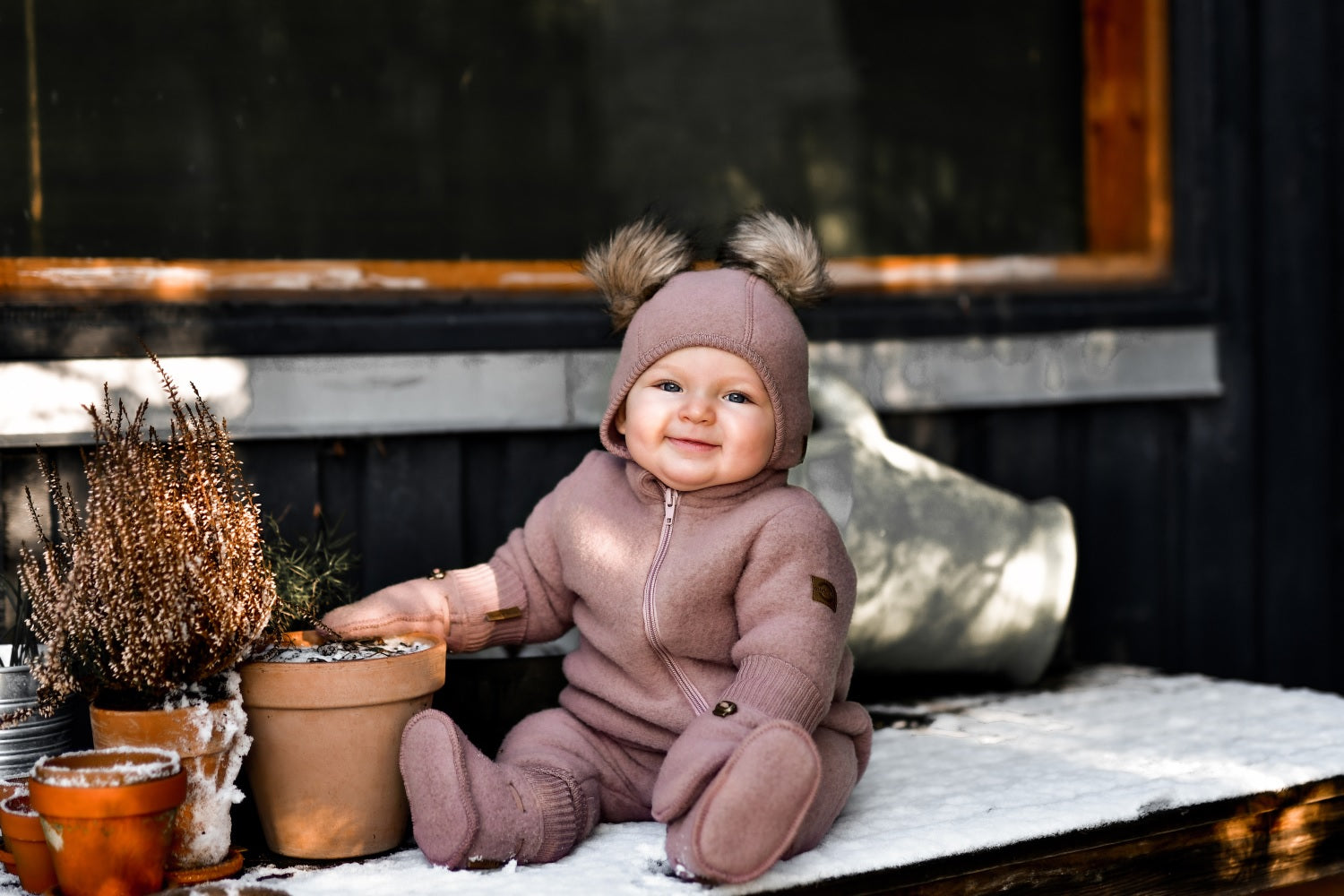 A cornerstone of each mikk-line collection, is a selection of brushed wool outerwear for children. Depending on the season, the brushed wool programme covers a wide range of garments, including one-piece baby jumpsuits, jackets with zippers, cardigans with buttons, pants, hats, neck warmer, mittens and footies.
All brushed wool products by mikk-line are made from luxurious soft merino wool, and they are manufactured in Ukraine by our longstanding supplier. Merino wool is thinner and softer than regular wool, and as we apply a brushed quality (in contrast to boiled), mikk-line brushed wool items are wonderfully soft and do not scratch or irritate the skin in any way.
See all our Brushed Wool styles
Why is wool outerwear a must-have for your child?
Our brushed wool styles are all comfortable outerwear garments for both babies and older children. For babies and toddlers, mikk-line brushed wool garments are perfect for a cosy and snug nap, a walk in the stroller, or a drive in chilly and cold weather. For older children, the brushed wool clothes are ideal as cosy and comfortable loungewear, as lightweight outerwear on dry days, or for camping and sleeping outdoors. Finally, the brushed wool styles are also highly suitable as a mid-layer for extra warmth underneath rainwear, softshell, jackets or snowsuits.


Wool: A Natural Choice with Abundant Benefits
- Wool is particularly useful for varying outdoor conditions, as it is insulating yet highly breathable. It helps to regulate the child's body temperature, even during high-intensity activity.
- Wool absorbs moisture and sweat without feeling wet or cold and leaves the skin feeling nice and dry.
- Wool is anti-bacterial and odor resistant.
- Wool is self-purifying and rarely needs to be washed.
- Wool is a natural and biodegradable material.


Mulesing-free wool in favour of animal welfare
Mikk-line only uses mulesing-free merino wool, as we want to ensure animal welfare. Mulesing has been a routine surgical procedure to prevent sheep from infections caused by insects. However, mulesing is painful for the sheep, and we do not want animals to go that kind of pain and stress. Luckily, alternative methods have been developed, which are not painful for the sheep and still manage to keep sheep safe from the insects.
We require our suppliers to use mulesing-free wool whenever possible, to guarantee you that the wool was harvested in a responsible and humane way. To further commit to animal welfare, our pom poms and tassels are solely made of fake fur (also called faux fur).


Wool clothes that are easy to care for and preserves their quality.
We apply the Total Easy Care (T.E.C.) technology on all our brushed wool garments to ensure a long-lasting quality. By using this technology, the wool fibres are given a silicone membrane to the triggering cause of felting. This results in a smooth anti-felting surface and less shrinkage. T.E.C.-treated garments are more durable, easy to maintain, can be machine-washed, and dried in a tumble dryer. See more care instructions for our brushed wool.
Safe and certified garments for children of all ages
All brushed wool products by mikk-line are certified by OEKO-TEX® STANDARD 100. This is a globally recognized certification specific for textiles, where all parts of the production, from fabric, stitching, buttons, to zippers etc are tested against a set of strict limits on the use of harmful chemicals. Mikk-line brushed wool products are certified according to product class 1, which covers products for babies and has the strictest requirements and limit values.